News

M2u Newsletter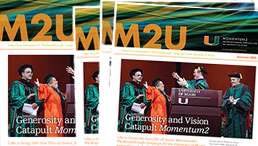 The Summer 2015 M2U newsletter highlights initiatives and achievements of the historic Momentum2 campaign and its dramatic beneficial impact on the U.
Maintaining Momentum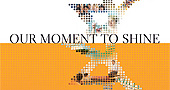 Revisit highlights from the first Momentum campaign in the 2008 wrap-up report, Our Moment to Shine.

The University of Miami's Office of Media Relations is responsible for communicating information to the media regarding the Momentum2 campaign and coordinating press coverage of campaign-related stories and events.
To contact Media Relations call 305-284-5500 or e-mail ummedia@miami.edu.
Visit the Momentum2 Storify site.
Latest News
Spring 2015
Fall 2014
Summer 2014
Spring 2014
Fall 2013
Summer 2013
Spring 2013
Fall 2012
Summer 2012
May 2012
April 2012
March 2012
February 2012
January 2012
2008 - 2011
More News