School of Nursing and Health Studies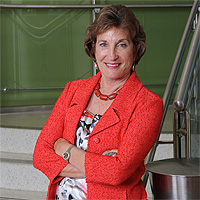 Pamela Garrison, R.N.
School of Nursing and Health Studies Campaign Co-Chair
Pamela Garrison, R.N., is a retired nurse with nearly 50 years of professional experience in the health care field. During her career, she served at a number of facilities in South Florida, such as Jackson Memorial Hospital, South Miami Hospital, Doctors Hospital, and Baptist Hospital. While at Jackson Memorial, Garrison worked with the Taos Ski Valley Ski Patrol in New Mexico.
Garrison's UM connection harkens back to her grandparents, E.H. and Gaynell Padgett, and her uncle, James B. Forbes Jr., all of whom were generous University supporters. In addition to co-chairing the Momentum2 campaign for the School of Nursing and Health Studies, she serves on the School's Visiting Committee. Garrison is also a director of The Kirk Foundation, a philanthropic organization which has generously supported the M. Christine Schwartz Center, including Dean Nilda Peragallo's office suite, named in Garrison's honor as the Pamela Garrison, R.N., Dean's Suite.
In addition to her work in nursing, Garrison is a former board member of the Miami City Ballet and the Miami Art Museum and currently sits on the boards of the Miami Lighthouse for the Blind and the Visually Impaired and the Florida Nature Conservancy. She is also a member of the Tiffany Circle Society of Women Leaders of the American Red Cross.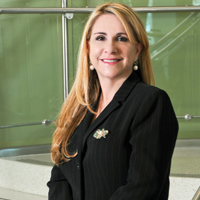 Maria Lamas Shojaee, A.B. '85, M.B.A. '12
School of Nursing and Health Studies Campaign Co-Chair
Maria Lamas Shojaee is an advocate for integrative and Eastern health care in addition to Western medicine, who believes in treating the patient holistically—mind, body, and soul. Fully recovering from a near-fatal car accident in her teens triggered her interest in Eastern medicine and the role of integrative health care practices in enhancing patient recovery.
A member of the School of Nursing and Health Studies' Visiting Committee, Shojaee participated in a panel on Advances in Integrative Healthcare: Impact on Global Health Issues at the 2011 UM Global Business Forum. She also has been a guest lecturer in integrative health care at the School. Maria is chief executive officer of Shoma Group. She is currently pursuing a Master of Business Administration degree with a concentration in health care policy and management at the School of Business Administration.
Shojaee is a former UM alumni trustee with an orange-and-green family: husband Masoud, B.S.E.E. '83, M.S.E.E. '85; daughter Anelise, B.B.A. '07, M.B.A. '12; and daughter Lilibet, B.S.C. '10. The family has donated generously to the School of Nursing and Health Studies, the School of Communication, and the Sylvester Comprehensive Cancer Center.